THE MASTERPLAN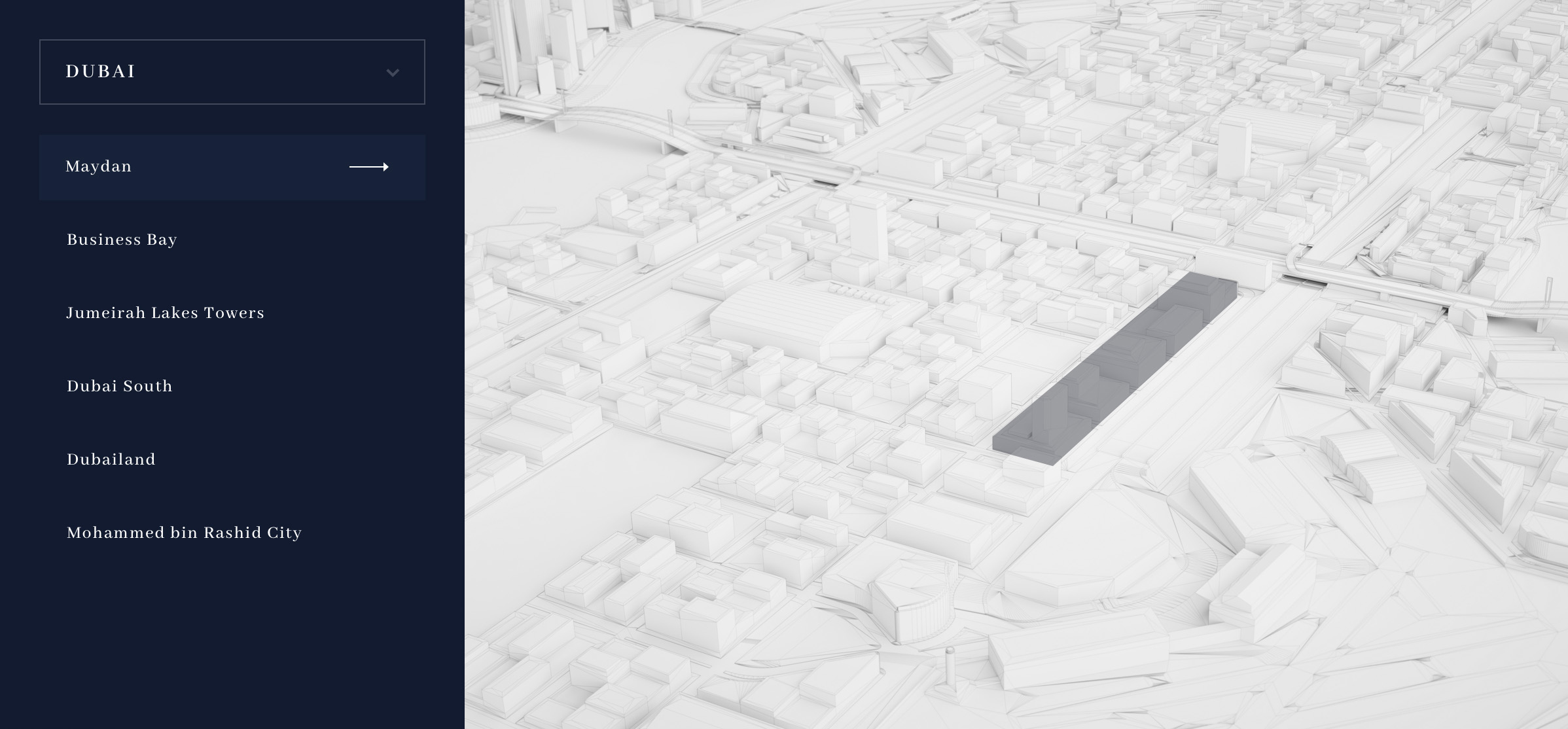 Completed Projects
MAG 214
The first of MAG PD's residential projects, MAG 214 is a 40-storey high-rise residential tower located in JLT offering 312 apartments comprising duplex penthouses and one-. two-, and threebedroom units. The development with a built-up area of 750,000 sq. ft was completed in 2007 and represents the cutting edge in contemporary design within one of Dubai's most sought-after residential developments.
MAG 218
With an impressive built-up area of 1,130,000 sq. ft featuring 534 units consisting of one and two-bedroom apartments, the MAG 218 tower is a scenic 66-storey residential skyscraper. It is located in Dubai Marina, an affluent residential neighbourhood, opposite Marina Heights and adjacent to the Marina Walk. Its construction started in 2006 and was completed in 2010.
Emirates Financial Towers
Emirates Financial Towers (EFT) is a 27-storey, holistically conceptualised, twin-tower commercial property that offers prestigious office and retail spaces in the heart of the Dubai International Financial Centre district. Completed in 2011, its contemporary elliptical glass-facade profile and sky bridge are unique architectural elements that distinguish EFT within the impressive Dubai skyline. With a built-up area of 1,083,103 sq. ft developed by MAG Property Development, in partnership with ENSHAA PSC, EFT is currently MAG Group Holding's headquarters and is a reflection of the Group's mission to develop modern, high-class, and functional properties within strategically central locations.
MAG Hotel Apartments
Located in the Mankhool area behind the famous BurJuman Centre in Bur Dubai, the MAG Hotel Apartments feature 91 elegant and well-furnished serviced apartments that were all sold out through MAG PD.
MAG 5 Residences
Strategically located in the Marina Square on Al Reem Island, the MAG 5 Residences tower is a symbol of prestigious lifestyle due to its prime location. This 42-storey tower has 202 spacious apartments that feature beautiful views of the island.
Al Quoz Warehouses
Al Quoz Warehouses, completed and handed over in March 2017, is a warehouse complex plot located on Al Khail Road in Al Quoz, Dubai that covers an area of 500,000 sq. ft. The warehouses offer single and multistorage accommodations, flexible leasing options, and come with loading and unloading facilities.
Al Saja'a Complex
Al Saja'a Complex, handed over in 2017, is spread over three plots in Sharjah that comprise showrooms, offices, and warehouses over an area of 1,100,000 sq. ft that offer customers the flexibility of choosing the type of store they need.
MAG Complex
The MAG Complex, completed in 2007, is spread over four plots in the industrial area of Sharjah that comprise showrooms and warehouses over a land area of 717,806.64 sq. ft It offers flexible leasing options as well as various unit size options for customers to choose from.
MAG 5 Boulevard
MAG 5 Boulevard is a residential project in Dubai South that is set to redefine quality of life, functionality, simplicity of design, and efficient use of space. It features 13 sixstorey buildings comprising 528 units of studio, one-, two-, and three-bedroom apartments.
The Estate - Phase I & Phase II
Resting on 403,276 sq. ft in the quiet area of Al Furjan in Dubai, The Estate is a vast enclave of 48 luxury villas and 34 townhouses. This development features easy access to Sheikh Zayed Road, allowing residents to own homes in a serene area with quick access to the city. The Estate is an elite address that showcases the beautiful balance of sophistication and contemporary luxury. From huge plots to spacious living spaces with premium finishing, everything about The Estate has a touch of distinction that is designed for its elite residents.
MBL Residence
Located in the heart of JLT, next to the tallest commercial building in the world, the MBL Residence is a mixed-use luxury tower that consists of 492 one-, two-, and three-bedroom apartments facing the lakes. It stands on a total land area of 28,316 sq. ft in an unparalleled location, where business and pleasure come together, and offers residents easy access to some of the most popular attractions and shopping options in Dubai such as Dubai Marina Mall and The JBR Beach.
MAG 318
MAG 318 is a high-end residential tower located in the heart of the city in Dubai's Business Bay Downtown area, the central business district comprising commercial, mixeduse, and residential developments along the Dubai Water Canal. Hosting a sellable area of 292,000 sq. ft and 439 residential units consisting of studio, one-, and two-bedroom apartments; each of the units features premium finishing and is curated to arouse utmost comfort and satisfaction in residents.
MAG Logistic Park
MAG Logistic Park is located in the industrial area of the Emirate of Sharjah that comprises 15 buildings with compound boundary wall and 207 warehouses over a Total Plot Area: 1,643,403.39 SQ.FT Total Leasable Area: 1,046,456.92 SQ.FT , The vast complex offers premium facilities: firefighting (sprinkler system), cleaning services, parking, bathrooms, 24/7 security, waste management and more. The warehouses was handed over in in the first quarter of 2022. Available warehouses for leasing through MAG Leasing company, customers have the flexibility of choosing the type of store they need.
Istyle I and Istyle II Villas
Consisting of five and seven villas on a total land area of 2,849 sq.m, Istyle 2 and Istyle 3 are luxurious villa clusters in Mesovounia, Cyprus, located on one of the most exclusive hillsides in Limassol. These individually designed homes for sale have fantastic mountain and sea views, and are of an ideal size for families looking to live in an idyllic location. The project integrates chic, modern architecture with amazing and incomparable Mediterranean style. All villas are of the highest standard and offer the utmost comfort, stunning interiors, and privacy. The villas come with guaranteed title deeds and each home will come with an Energy Performance Certificate of a grade 'B' rating.